Hands4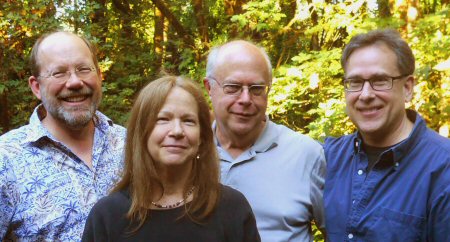 Since 2004, Hands4 has delivered its high-energy music to dance halls throughout the Pacific Northwest, and in Texas during a February, 2006, tour. Combining seldom-heard traditional tunes with originals by band members and other musicians, Hands4 has created a unique blend of music that is definitely not your usual contra tunes.
With their carefully-constructed tune sets featuring mostly original music, their diverse instrumentation, and their well-crafted harmonies and arrangements, Hands4 brings a fresh flavor and excitement to the dance hall wherever they play.
The band is also available as a trio, Stepwise, playing a more traditional repertoire, with Rich Goss calling the dances. This scaled-down configuration is ideal for wedding receptions, parties, and smaller community dances.
Please contact Talisman Music for booking information. Check the calendar to find out when Hands4 will be playing.




"Well of course, they're good musicians--but it went way beyond that--it was magic!"
--Portland contra dancer

Personnel
| | | |
| --- | --- | --- |
| | Fran Tewksbury (flute, whistle, percussion) also plays in Hapsala and the Portland Megaband. Fran has a long history with contra dancing and contra dance music as a former resident of Massachusetts, a founding member of the Oregon Country Dance Orchestra and one of the first to play for contra dancing at the Northwest Folklife Festival, in 1982. Soaring across the music, her whistles and flutes add a bright and lively energy to the Hands4 sound. | |
| | Keith Moe (fiddle, mandolin) is a decade-plus veteran of the Portland Megaband and was a member of the former contra dance band the Steeltones for several years. He played classical violin, tenor guitar, and uke in his younger days before discovering Scottish fiddle in Maine in the early '90s, which led him eventually to the joys of contra dance and its music. Keith lays down a steady lead and groove on both fiddle and mandolin. | |
| | Carl Thor (piano) also plays in Cascade Crossing, Celtinalia, Talisman, and is a veteran of the Portland Megaband. His varied, driving and rhythmic piano style propels the music and the dancers ever forward, and his hand is evident in many of the band's harmonies and arrangements. | |
| | Rich Goss (percussion) joined Hands4 in 2008 after performing in several Austin, Texas bands prior to moving to Portland. He currently plays in Cascade Crossing, Talisman, and the Portland Megaband, and he calls for contra dances throughout the Northwest and across the U.S. | |

Hands4 Demo Tracks


Click on the links to hear samples of Hands4's music (MP3 format).
St. James Street
(2:49, reel, ©2005, Hank Laramee)
Columbia River Fog / Nehalem Bay / The Black Scoter
(4:05, reels, ©2004, Carl Thor / ©2004, Hank Laramee / ©2002, Hank Laramee)
Mr. Bob's Farewell
(2:21, waltz, ©2007, Carl Thor)

Hands4 History

Hands4 first performed in 2004. Here is a listing of the places we've played since then.
Date
Event
Location
Caller
-- 2018 --
-- 2018 --
-- 2018 --
-- 2018 --
Sat. 1/27/18 (Stepwise)
PCDC contra dance
Fulton CC, Portland
Rich Goss
-- 2017 --
-- 2017 --
-- 2017 --
-- 2017 --
Sat. 12/16/17 (Stepwise)
Southern Oregon contra dance
The Grove, Ashland, OR
Rich Goss
Fri. 11/10/17 (Stepwise)
Contra in the Couve!
Hazel Dell Grange, Vancouver, WA
Tarka Ayres
Sun. 7/9/17 (Stepwise)
wedding
Sherwood, OR
Sue Baker
Sat. 6/10/17
Eugene contra dance
Village School, Eugene, OR
Laurel Thomas
Mon. 5/29/17 (Stepwise)
Northwest Folklife Festival
Seattle Center, Seattle
Rich Goss
Sat. 5/20/17
Corvallis contra dance
FCC Gatton Hall, Corvallis, OR
William Watson
Fri. 5/19/17 (Stepwise)
Hillsboro contra dance
Oddfellows Lodge, Hillsboro, OR
Rich Goss
Sat. 4/15/17
Southern Oregon contra dance
The Grove, Ashland, OR
Noah Grunzweig
Sat. 2/25/17
PCDC contra dance
Fulton CC, Portland
Laurel Thomas
Sat. 2/11/17
Olympia contra dance
South Bay Grange, Olympia WA
Suzanne Girardot
-- 2016 --
-- 2016 --
-- 2016 --
-- 2016 --
Fri. 10/21/16
Emerald City contra dance
Phinney CC, Seattle
Maureen Collier
Thu. 10/20/16
Lake City contra dance
Lake City CC, Seattle
Eric Curl
Fri. 10/14/16
Contra in the Couve!
Hazel Dell Grange, Vancouver WA
Marlin Prowell
Sat. 10/8/16 (Stepwise)
Wedding reception
Canby, OR
Rich Goss
Sat. 7/9/16 (Stepwise w/ Lori Prime)
PCDC contra dance
Fulton CC, Portland, OR
Rich Goss
Wed. 6/15/16 (Stepwise)
Newberg contra dance
Chehalem Cultural Center, Newberg, OR
Laurel Thomas
Sat. 6/11/16 (Stepwise)
Club party
Mountaindale, OR
Rich Goss
Sun. 5/29/16
NW Folklife Festival
Seattle, WA
Laurel Thomas
Sat. 5/21/16
Corvallis contra dance
FCC Gatton Hall, Corvallis, OR
Eric Curl
Sat. 1/23/16
PCDC contra dance
Fulton CC, Portland, OR
Sue Baker
Sat. 1/9/16
Eugene contra dance
Dunn School, Eugene, OR
Karen Marshall
-- 2015 --
-- 2015 --
-- 2015 --
-- 2015 --
Sat. 10/17/15
Vancouver contra dance
St. James Hall, Vancouver, BC
Laura Mé Smith
Fri. 10/16/15
Emerald City contra dance
Phinney CC, Seattle, WA
Laura Mé Smith
Wed. 9/16/15 (trio)
Newberg contra dance
Chehalem Cultural Center, Newberg, OR
Rich Goss
Fri. 9/11/15
Contra in the Couve!
Hazel Dell Grange, Vancouver, WA
Laurel Thomas
Sat. 6/13/15
Seattle East Side contra dance
Juanita CC, Kirkland, WA
Laura Mé Smith
Sat. 5/16/15
Ashland contra dance
The Grove, Ashland, OR
Laurel Thomas
Fri. 4/17/15 (trio)
Anniversary party
Portland, OR
Rich Goss
Sun. 3/15/15
Portland Roadhouse showcase
Milwaukie CC, Milwaukie, OR
Michael Karcher
Sat. 2/21/15
Corvallis contra dance
FCC Gatton Hall, Corvallis, OR
Laurel Thomas
Sat. 2/14/15
Olympia contra dance
South Bay Grange, Olympia, WA
Jay Finkelstein
-- 2014 --
-- 2014 --
-- 2014 --
-- 2014 --
Sat. 9/6/14
1st Saturday contra dance
Fulton CC, Portland, OR
Tarka Ayres
Sun. 8/17/14
Wedding reception
Silver Falls State Park, OR
Sue Baker
Sat. 5/24/14
NW Folklife Festival
Seattle, WA
Noah Grunzweig
Fri. 5/16/14
Emerald City contra dance
Phinney CC, Seattle, WA
Noah Grunzweig
Sat. 3/15/14
Corvallis contra dance
FCC Gatton Hall, Corvallis, OR
Noah Grunzweig
Sun. 3/9/14
Portland Roadhouse showcase
Milwaukie CC, Milwaukie, OR
William Watson
Sat. 1/11/14
PCDC family dance &
PCDC contra dance
Fulton CC, Portland, OR
Amy Carroll
-- 2013 --
-- 2013 --
-- 2013 --
-- 2013 --
Fri. 12/13/13
Contra in The Couve!
Hazel Dell Grange, Vancouver, WA
David Kaynor
Thu. 11/7/13
Lake City contra dance
Lake City CC, Seattle, WA
Lindsey Dono
Sat. 9/28/13
Eugene contra dance
Dunn School, Eugene, OR
Brooke Friendly
Sat 7/6/13
1st Saturday contra dance
Fulton CC, Portland, OR
Noah Grunzweig
Sat. 6/15/13 (trio)
H.S. graduation party
Beaverton, OR
Rich Goss
Sun. 2/17/13
Vancouver English Country dance
Legion Hall, Vancouver, BC
Mary Devlin
Sat. 2/16/13
Vancouver contra dance
St. James Hall, Vancouver, BC
Mary Devlin
Sat. 1/19/13
Corvallis contra dance
FCC Gatton Hall, Corvallis, OR
Tarka Ayres
-- 2012 --
-- 2012 --
-- 2012 --
-- 2012 --
Sat. 10/27/12
PCDC contra dance
Fulton CC, Portland, OR
Mary Devlin
Fri. 10/26/12
Emerald City contra dance
Phinney CC, Seattle, WA
Adam Carlson &
Lindsey Dono
Sun. 5/27/12
NW Folklife Festival
Seattle, WA
Marianne Tatom Letts
Sat. 4/14/12
Bend community contra dance
Boys & Girls Club, Bend, OR
James Hutson
Sat. 3/17/12
Tacoma contra dance
Christ Church Wells Hall, Tacoma, WA
Kat DiFoxfire Wilson
Fri. 3/9/12
Contra in The Couve!
Hazel Dell Grange, Vancouver, WA
Maureen Collier
Sat. 2/11/12
Olympia contra dance
South Bay Grange, Olympia, WA
Jay Finkelstein
-- 2011 --
-- 2011 --
-- 2011 --
-- 2011 --
Thu. 11/3/11
Lake City contra dance
Lake City CC, Seattle, WA
William Watson
Sat. 9/10/11
Eugene contra dance
Cesar Chavez School, Eugene, OR
Tom & Amy Wimmer
Sat. 5/21/11
Astoria contra dance
Netel Grange, Astoria, OR
Anne Marie Schaefer
Fri. 5/6/11
Emerald City Contra Dance
Phinney NC, Seattle, WA
Jay Finkelstein
Fri. 4/8/11
Contra in The Couve!
Hazel Dell Grange, Vancouver, WA
Mary Devlin
Sat. 3/26/11
North Coast contra dance
NCRD gym, Nehalem, OR
Stacy Rose
Sat. 3/19/11
Corvallis contra dance
FCC Gatton Hall, Corvallis, OR
Susie Kendig
-- 2010 --
-- 2010 --
-- 2010 --
-- 2010 --
Thu. 10/28/10
Lake City contra dance
Lake City CC, Seattle, WA
Marianne Tatom Letts
Mon. 5/31/10
NW Folklife Festival
Seattle, WA
Susie Kendig
Thu. 5/20/10
Evergreen State College contra dance
CRC/Gym, Olympia, WA
Anne Marie Schaefer
Sat.4/10/10
Bend community contra dance
Kenwood School, Bend, OR
Silas Minyard
Sun. 3/14/10
Portland Roadhouse showcase
Milwaukie CC, Milwaukie, OR
Sue Baker
Sat. 2/27/10
Eugene contra dance
Cesar Chavez School, Eugene, OR
Woody Lane
-- 2009 --
-- 2009 --
-- 2009 --
-- 2009 --
Sat.11/14/09
PCDC family dance &
PCDC contra dance
Fulton CC, Portland, OR
Sherry Nevins
Sat. 10/17/09
Corvallis contra dance
FCC Gatton Hall, Corvallis, OR
Keith Tuxhorn
Sat. 9/19/09
Wedding reception
Hillsboro, OR
Mark Lewis
Thu. 8/27/09
New student event
Reed College, Portland, OR
Elinor Preston
Fri. 8/14/09
Emerald City contra dance
Phinney CC, Seattle, WA
Hal Mueller
Sat. 6/13/09
Eugene contra dance
Cesar Chavez School, Eugene, OR
Sue Baker
-- 2008 --
-- 2008 --
-- 2008 --
-- 2008 --
Fri. 11/21/08
Emerald City contra dance
Phinney CC, Seattle, WA
Laura Me Smith
Thu. 11/20/08
Lake City contra dance
Lake City CC, Seattle, WA
Warren Argo
Sat. 11/8/08
PCDC family dance &
PCDC contra dance
Fulton CC, Portland, OR
Sherry Nevins
Mon. 5/26/08
NW Folklife Festival
Seattle, WA
Joseph Erhard-Hudson
Sat. 3/22/08
Astoria contra dance
Netel Grange, Astoria, OR
Stacy Rose
Fri. 3/14/08
Emerald City contra dance
Phinney CC, Seattle, WA
Joseph Erhard-Hudson
Fri. 2/8/08
Corvallis contra dance
FCC Gatton Hall, Corvallis, OR
Tim Gojio
-- 2007 --
-- 2007 --
-- 2007--
-- 2007 --
Sat. 11/17/07
Corvallis contra dance
Corvallis, OR
Stacy Rose
Sat. 8/11/07
PCDC contra dance
Fulton CC, Portland, OR
Merilee Karr
-- 2006 --
-- 2006 --
-- 2006--
-- 2006 --
Tue. 3/14/06
School carnival dance
Marysville Elem. School, Portland, OR
Rich Goss
Sun. 2/12/06
Contra dance
Blanco, TX
Rich MacMath
Sat. 2/11/06
Houston contra dance
Houston, TX
Rich Goss
Fri. 2/10/06
English Country dance
Austin, TX
Cynthia Stenger & Dave Macemon
Sun. 2/5/06
Couple dance workshop
Dallas, TX
Rhonda Beckman
Sat. 2/4/06
Dallas contra dance
Dallas, TX
Rich Goss
Fri. 2/3/06
Austin contra dance
Austin, TX
Rich Goss
-- 2005 --
-- 2005 --
-- 2005--
-- 2005 --
Sat. 12/10/05
PCDC contra dance
Fulton CC, Portland, OR
John Gallagher
Sat. 11/26/05
Eugene contra dance
Kelly Middle School, Eugene, OR
Elinor Preston
Fri. 11/4/05
Emerald City contra dance
Phinney CC, Seattle, WA
John Gallagher
Thu. 10/20/05
Waltz Eclectic dance
Sellwood CC, Portland, OR
n/a
Sat. 9/17/05
Corvallis contra dance
FCC Gatton Hall, Corvallis, OR
Erik Weberg
Sat. 7/9/05
NW Folklife Arts & Trails dance
Sacajawea State Park, Pasco, WA
Joseph Erhard-Hudson
Sat. 6/25/05
PCDC contra dance
Fulton CC, Portland, OR
Tim Gojio
Sat. 6/11/05
Eugene contra dance
Kelly Middle School, Eugene, OR
Elinor Preston
Sat. 5/28/05
NW Folklife Festival
Seattle, WA
Gordy Euler
Fri. 5/20/05
Birthday party dance
Vancouver, WA
Rich Goss
Sat. 5/14/05
NW Folklife Arts & Trails dance
Ft. Columbia State Park, Chinook, WA
Dave Ambrose
Sat. 2/26/05
Open band church dance
Vancouver, WA
Mary Devlin
Sun. 2/20/05
Pancake breakfast
Bay City Arts Center, Bay City, OR
n/a
Sat. 2/19/05
North Coast contra dance
White Clover Grange, Nehalem, OR
Hank Laramee
-- 2004 --
-- 2004 --
-- 2004--
-- 2004 --
Sat. 10/9/04
MCFS country dance
Rockford Grange, Hood River, OR
Caroline Oakley